The Fundamentals of Financial & Investing Literacy : One of the Crucial Life skills : Becoming Financially and Investing Literate for Personal Finance Understanding
99% of us are working for a living by trading our precious time for money. We have little to no Personal Finance Understanding and this impacts our overall personal development. Traditional retirement theory is focused on what Bill calls "Big Gulp" investing: Save a lot of money in a 401k/IRA and at age 65 start drawing it down and hope it doesn't run out before you die. In the meantime you have to grind out 40 hour work weeks for 40+ years.
THERE IS A BETTER WAY!
Creating Personal Finance Understanding that impacts your overall Personal development is the key. The way to unlock it is with Passive Income Streams from purchased assets are the key to retiring early and never running out of money before you hit the Big Pine Box in the sky.  The first step in achieving this goal is to empower yourself by making sure you are Financially and Investing literate. Traditional personal finance and investing courses are not effective. This course will show you an entirely new and proven way to achieving Financial Freedom.
We work hard for our money and we want things in life. Society has created systems that take advantage of our human impulses that cause us to financially behave in ways that sabotage our ability to retire at an age early. Some folks will retire sooner than others because they acquired unique knowledge that others simply don't have. These people have Personal Finance Understanding and a better overall life that impacts all areas of their personal development.
One such person is your instructor, Personal Development & Personal Finance master Bill Stephens. Despite not fully putting his teachings into practice until his early 30's he was able to retire at age 41, which was 18 years ago. He is married with two grown financially literate kids that are in flagship state universities. He lives on a tropical Island where the average property values well exceed 1 million dollars. He was a professional salesperson and started three businesses. He taught himself personal finance & investing strategies and developed a system that can work for anyone. And he will share this knowledge with you in this course. 
In less than 1 hour you will learn:
Bill's Fundamentals of Financial & Investing Literacy
The Two most important Formulas in the world that every person MUST know
Two types of Income & Two types of Expenses
The 4 steps to financial freedom
How to Leverage Your Income
Is a Home Mortgage Good or Bad Debt?
Financial Photosynthesis & Why it is Crucial to Your Success
The 4 Crucial Life Skills
The Myth of Owning your Own Business
Tactics and Strategies to decrease expenses & Increase Income
Understanding Investment Models
Early Retirement Strategies & more
The primary objective of this course is to give you Bill's unique Fundamentals of Financial & Investing literacy so that you can create a plan to help you become financially free in the shortest time possible. This course is a MUST for high school students, young adults, and any adult who wish to achieve early Financial Independence. Learn how to be masterful in Personal Finance and have a huge leg up on Personal Development in less than one hour.
This value packed course will give you the formulas and strategies to get you off of the road of "trading time for money" and having your money work for you. 
We deliver this course with videos, audios and a workbook designed to sync up with the lessons. This course is available to you forever. But don't wait to take this course. Take it today because in just one short hour you'll know what you need to begin your journey to financial freedom.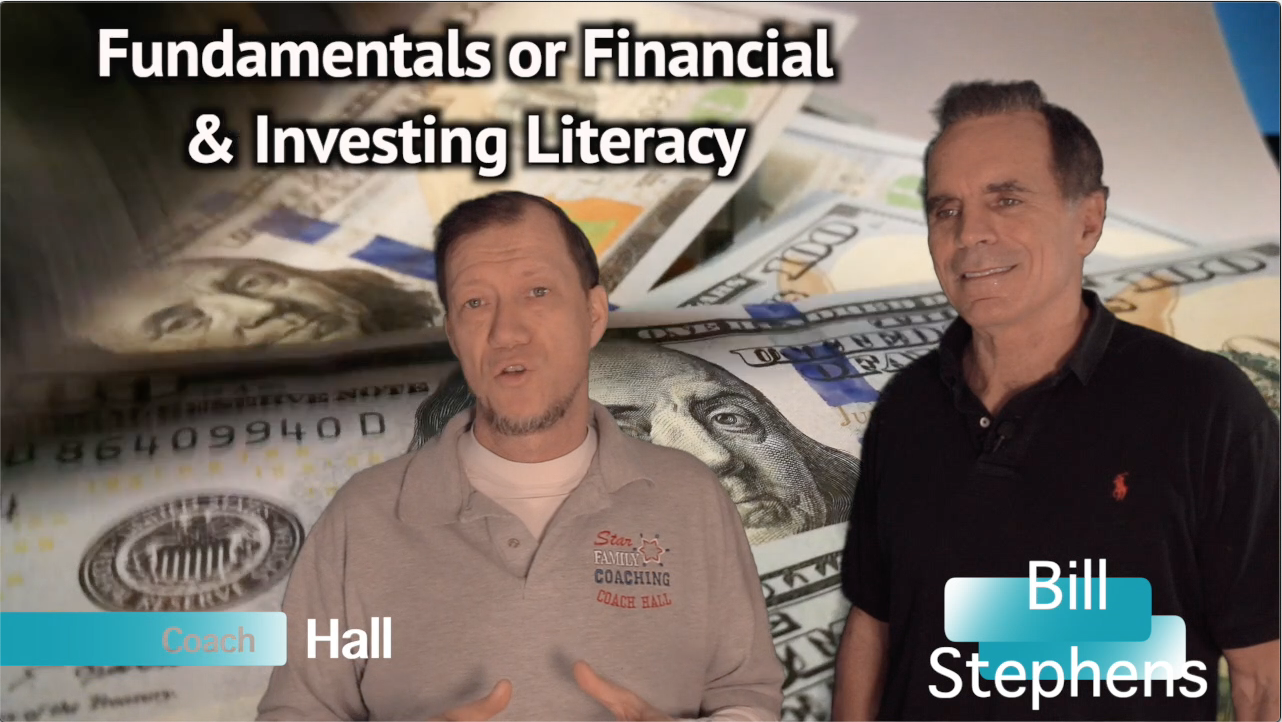 Hi, I'm Coach Hall & Bill Stephens we are your instructors for this course
I'm Coach Hall and I want to share a personal story that may save your financial life. In 2015 my wife and I were in serious debt. We were making very good money yet we weren't looking at our finances the way Financial literate people do. We had two kids in private school, a couple of cars loans and a hefty mortgage. We were eating out most every night and taking three to four major vacations per year. Life was good except one day I looked over our finances preparing them for our accountant (tax season) That's when I noticed we had much less in savings than the year before. In essence we were bleeding money. Spending more than we were making. We had acquired debt taking loans and using credit cards during slow-income seasons. We tried getting better loans and cut back on eating out but we weren't really getting out of debt. The interest was piling up faster than what we were cutting. My wife and I got nervous. Fortunately our good friend who retired at age 41, ( I first met him when he was 45 ) told us what he did to retire so early. We asked for some help. He generously stepped in and walked us through the basics and put us on a strict course to fix our financial crisis. Bill told us that he speaks at high schools teaching the same thing he taught us. He was shocked at the number of wealthy people he knew that didn't know what he did. After all he was retired and all of his wealthy friends were still working because they couldn't retire. In 2018 Bill spoke to me about my success in Online Teaching/Coaching and expressed interest in teaching the same course he taught to high schoolers to the world. In early 2019 we got together and recorded this course. He put together the slides and did the presentation . I developed the workbook and testing plus added a few bits here and there, produced, edited and distributed this course. As someone who benefited from his expertise I am honored to have worked on this project together because I know it will help you and your family. This tiny investment into information will return thousands to millions of times over. Come join us and in about one hour learn the fundamentals of financial & Investing literacy so you can become financially free.